Workshop
Institute of the Americas
ENLACE Summer Research Program
Annual Triton Summer STEM Academy
Seminars and Lectures
Food For Energy
IBA 2019 (Mar 3-8, 2019)
More information see link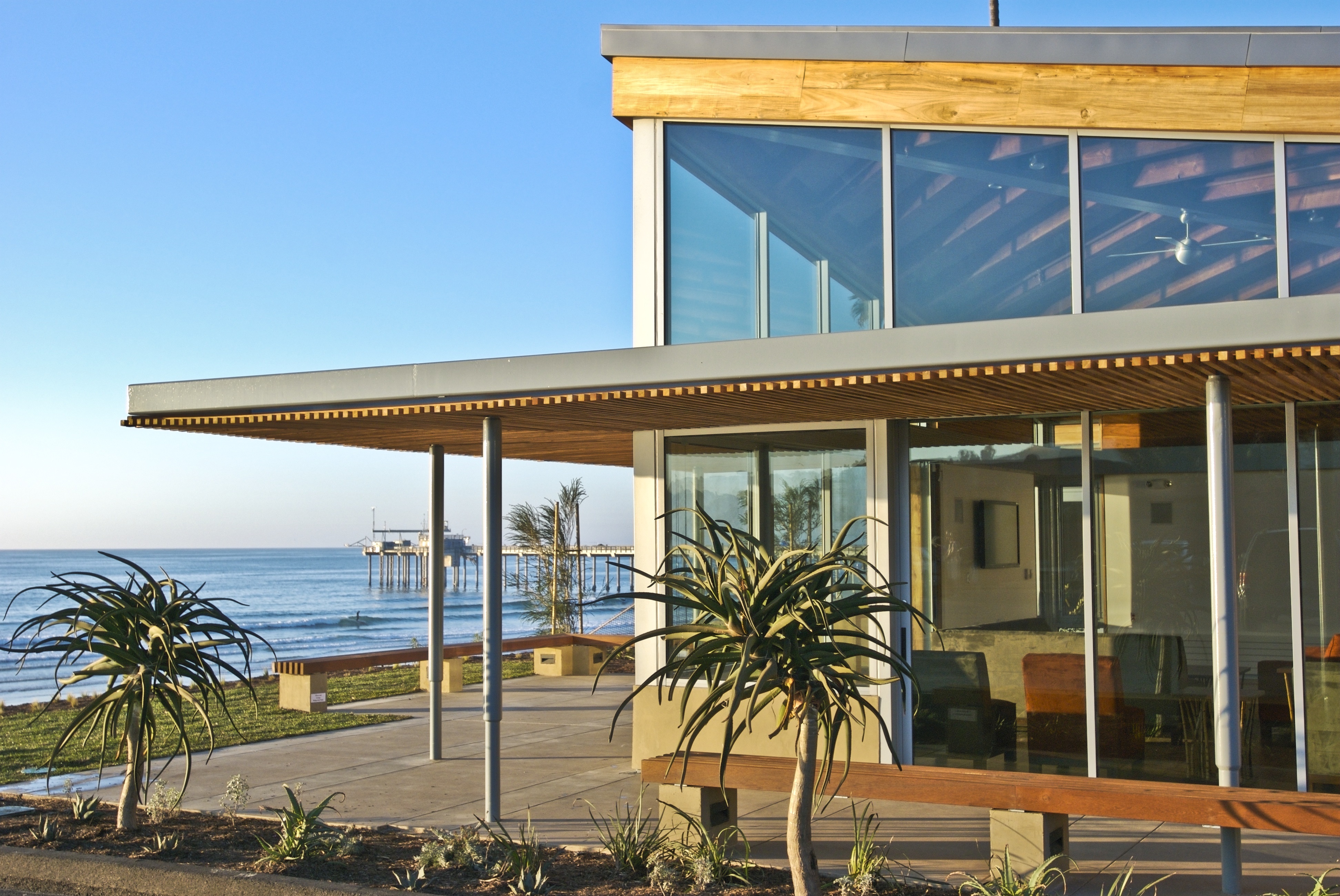 The 13th US-CHINA Electric Vehicle and Battery Technology Information Exchange – April 8-10, 2018
More information see link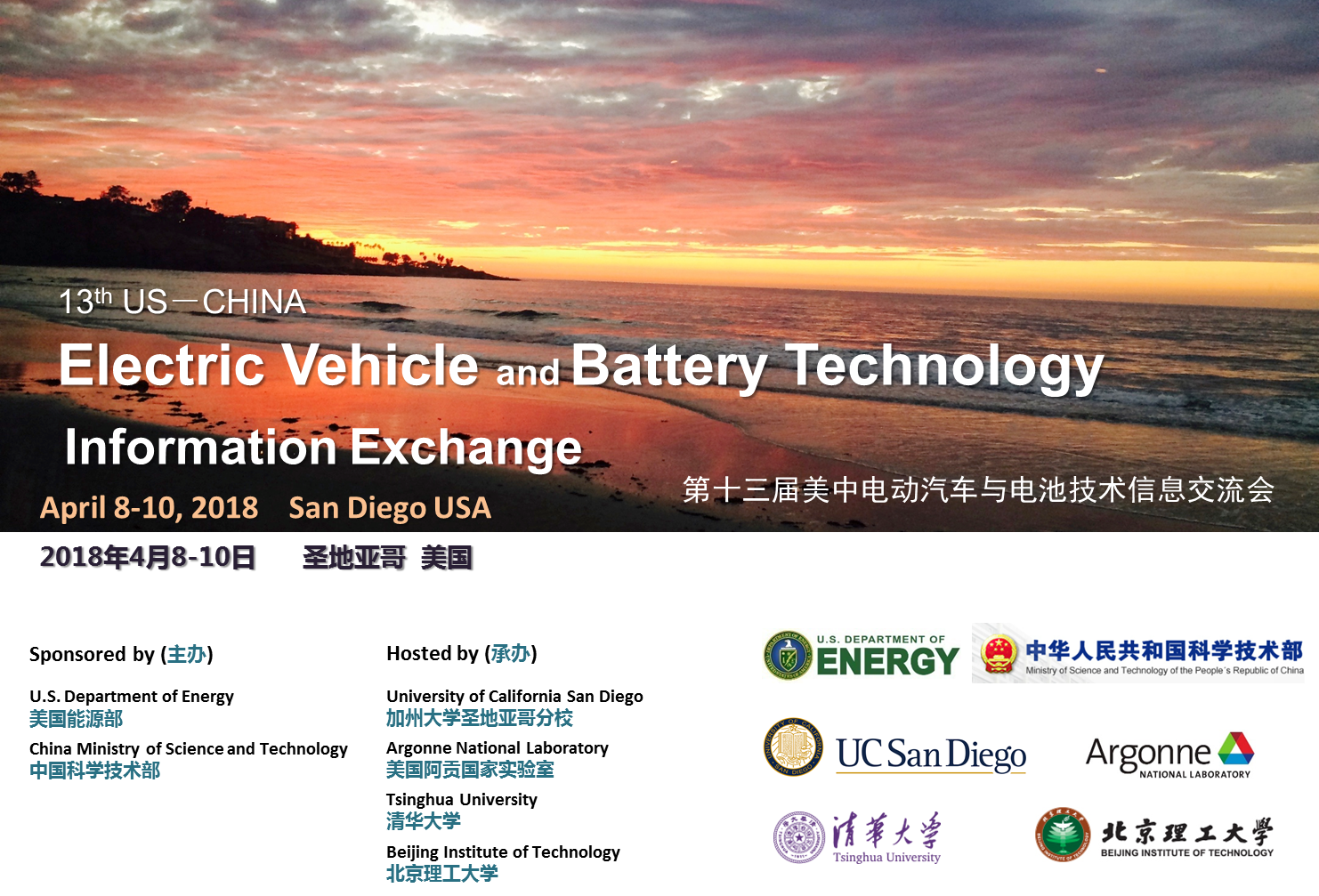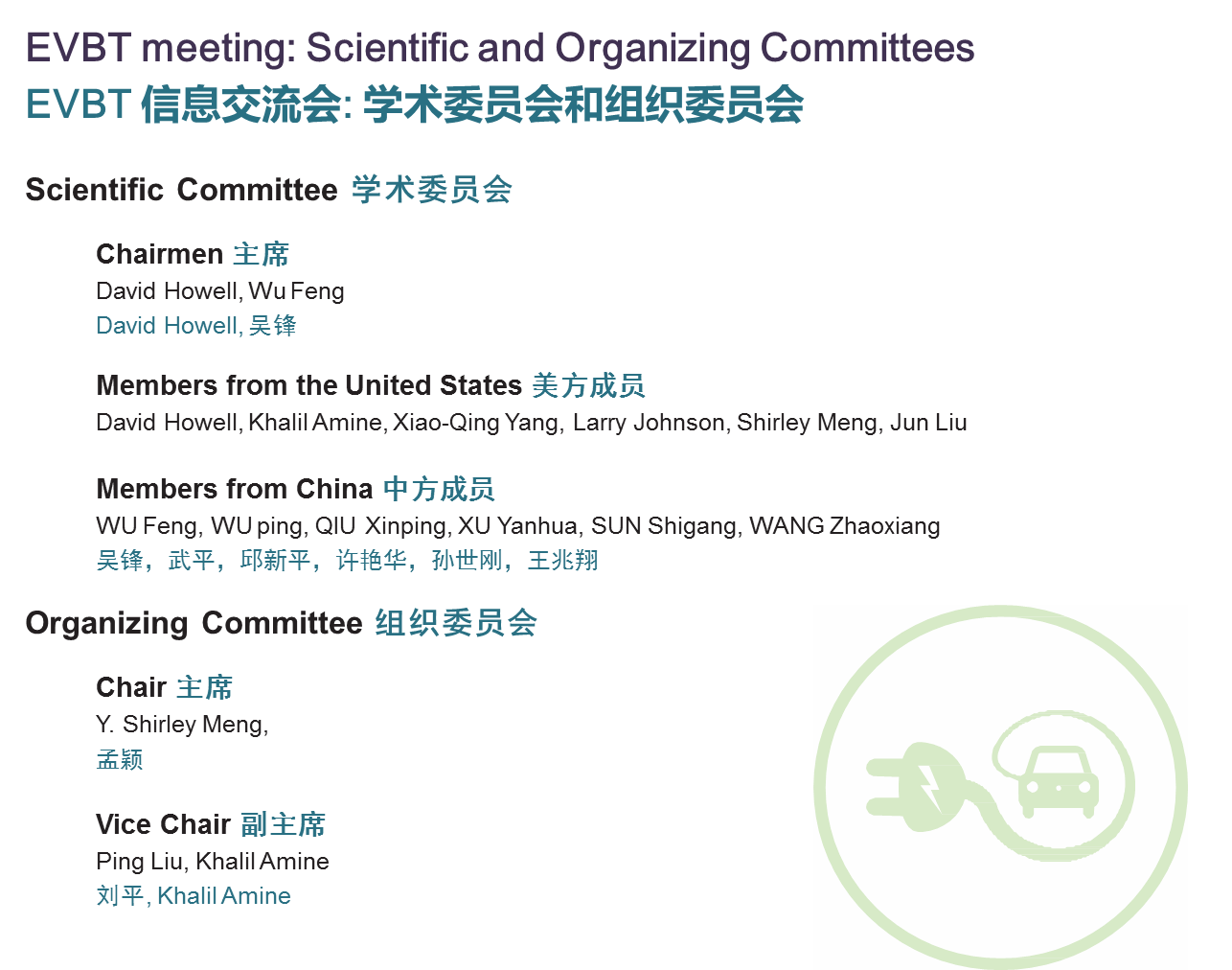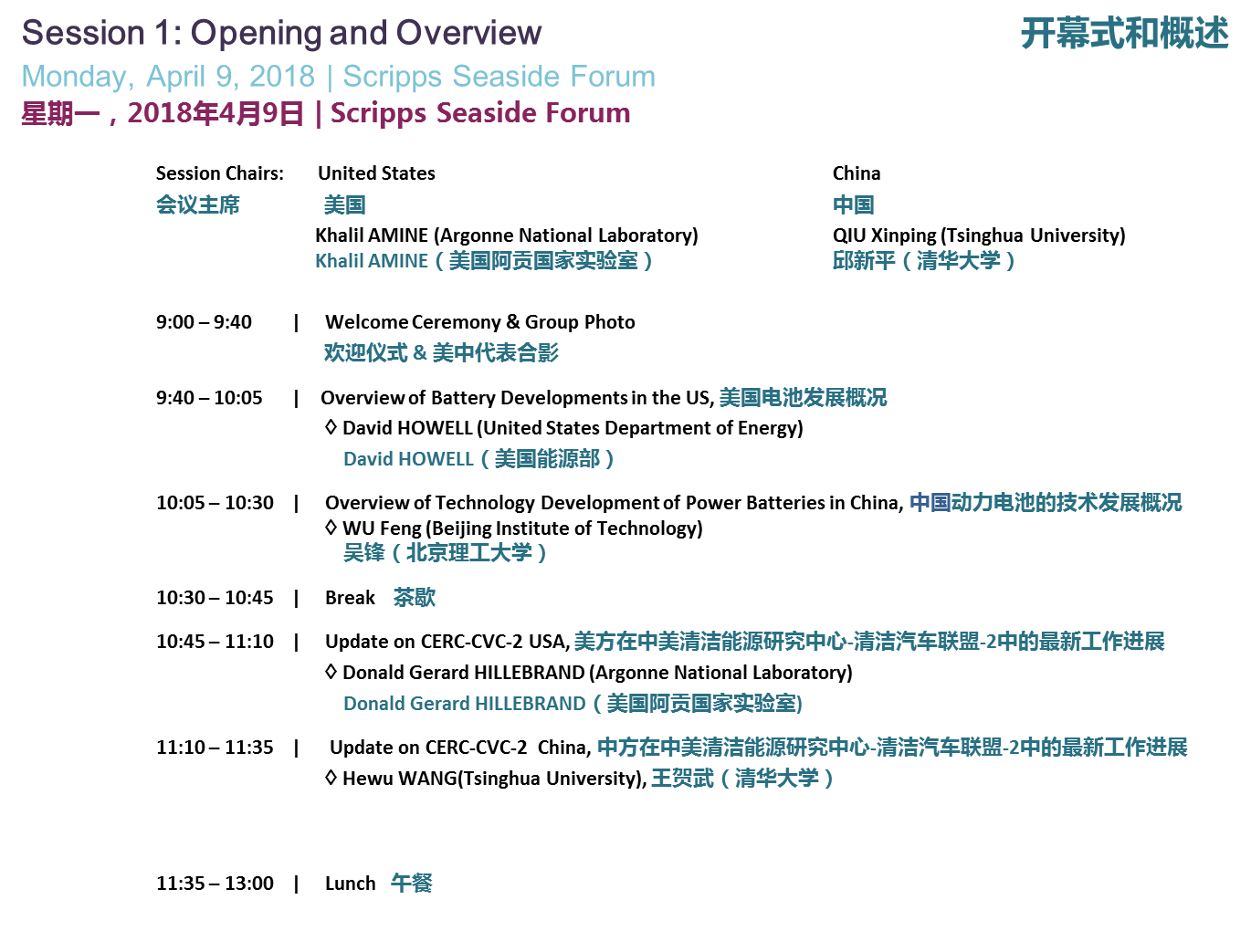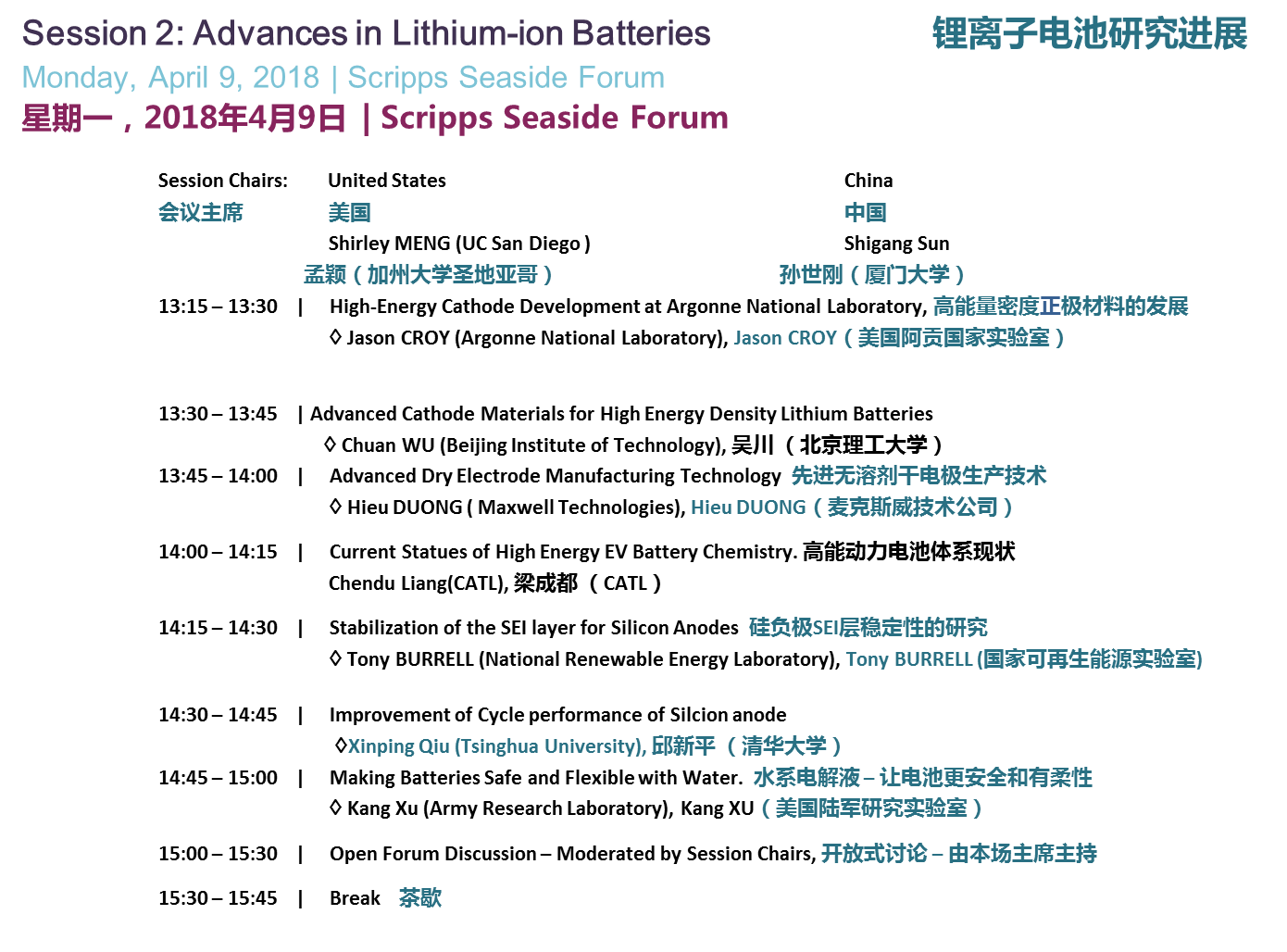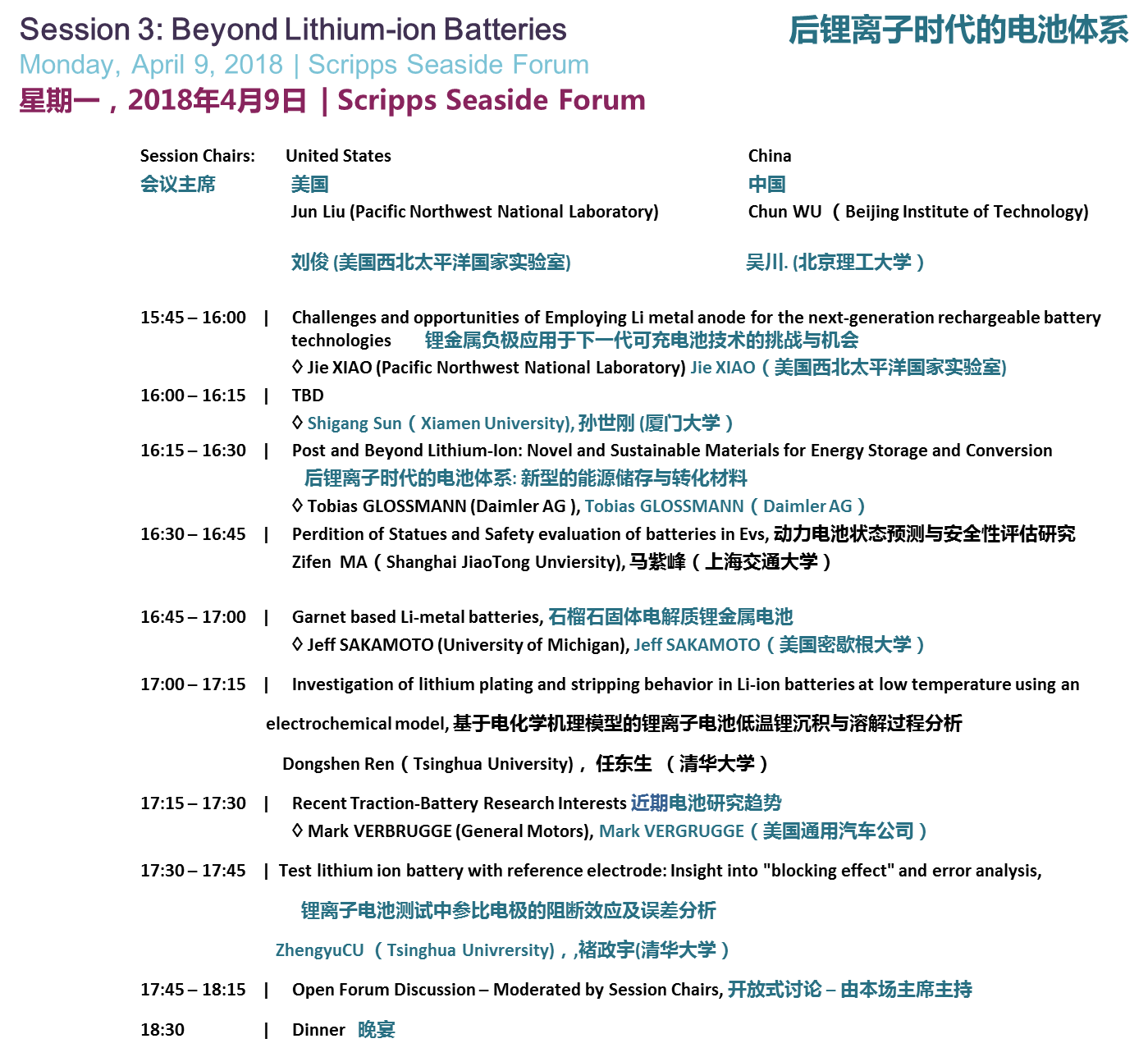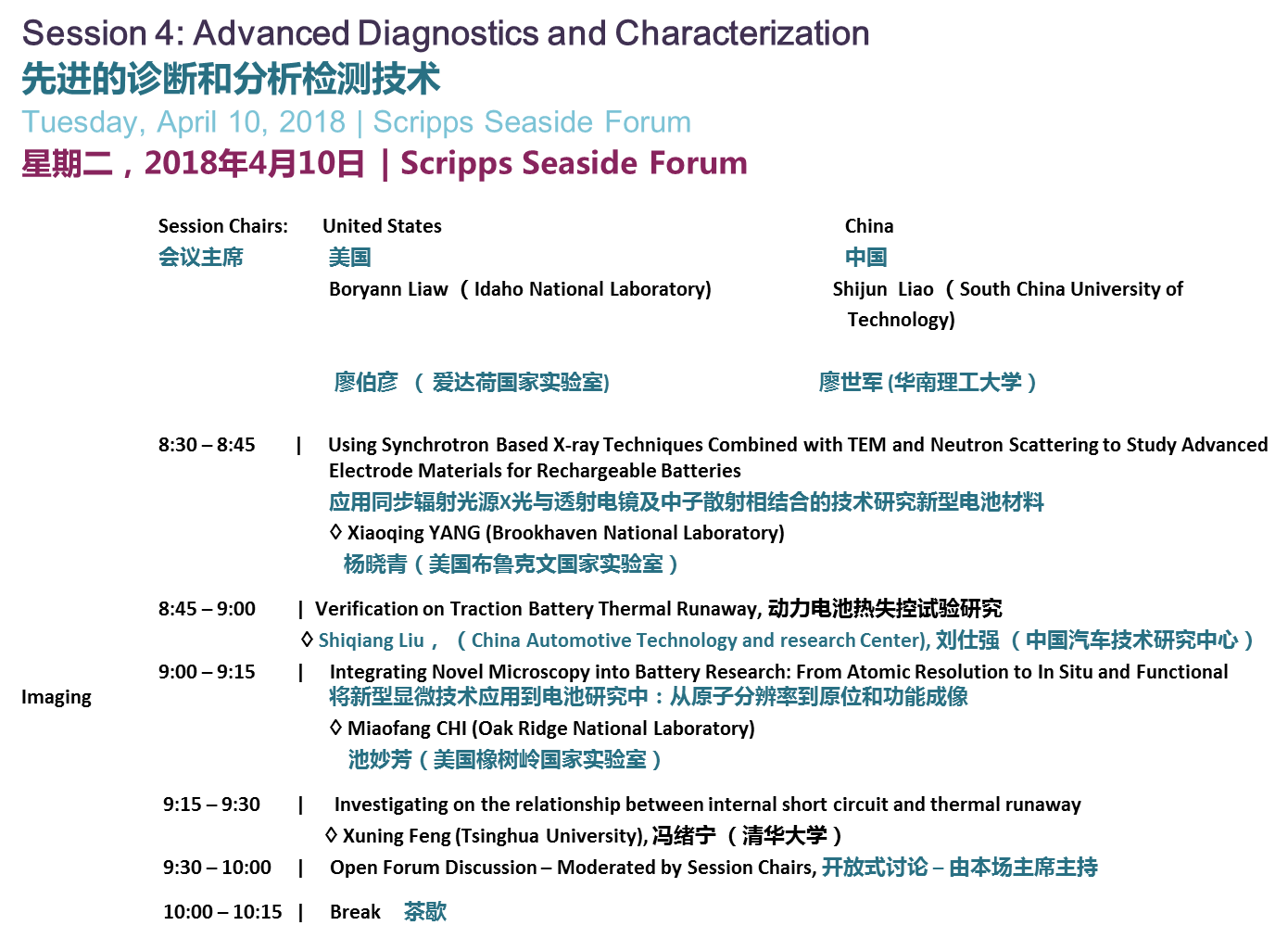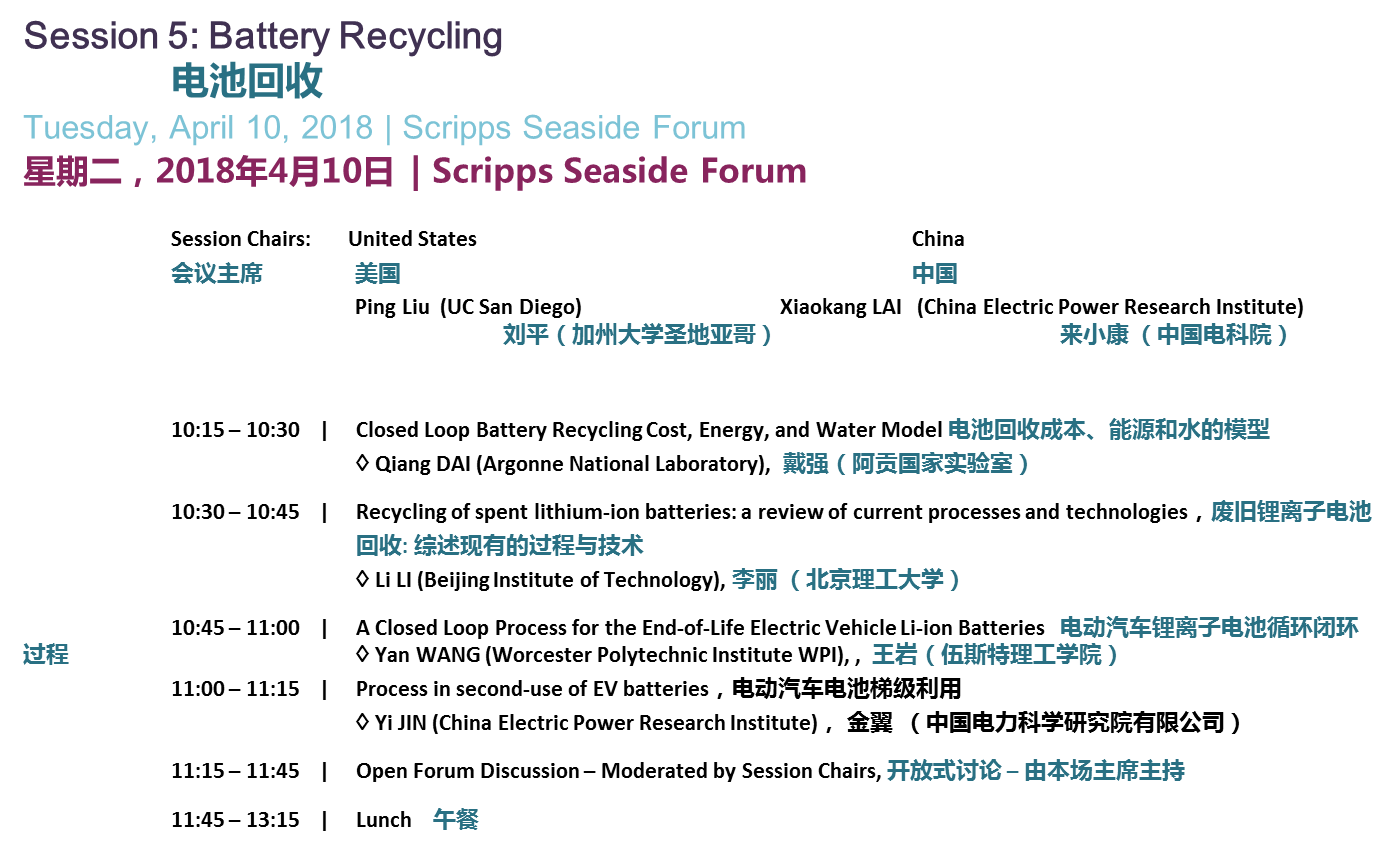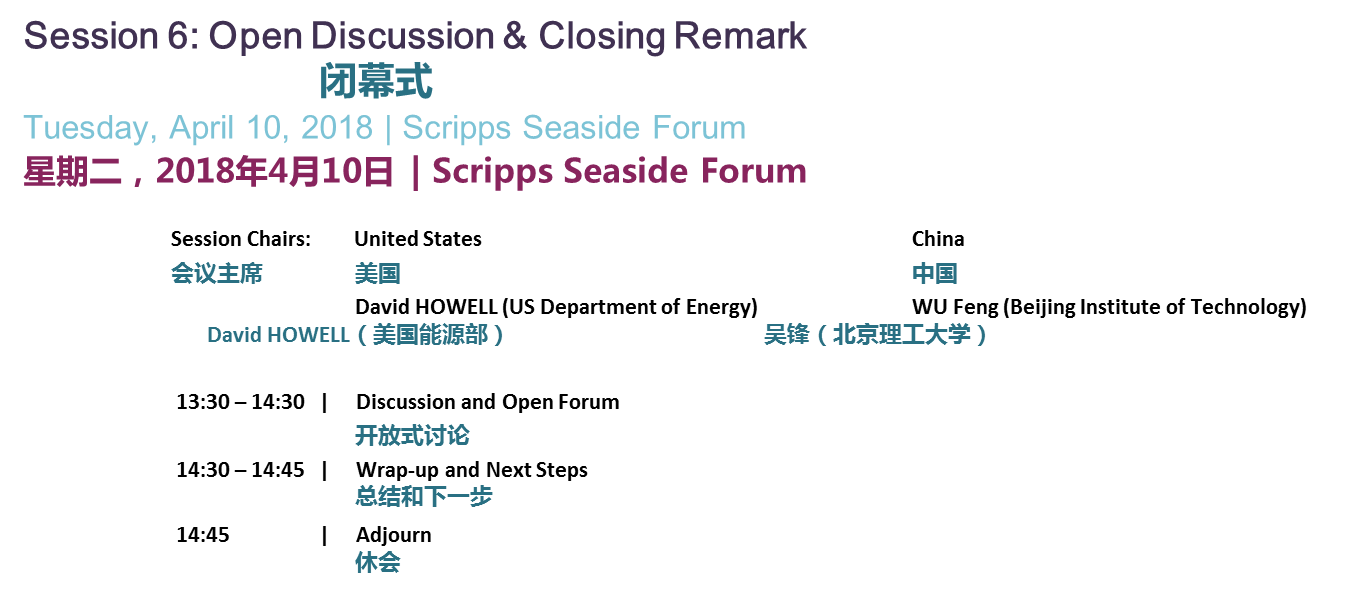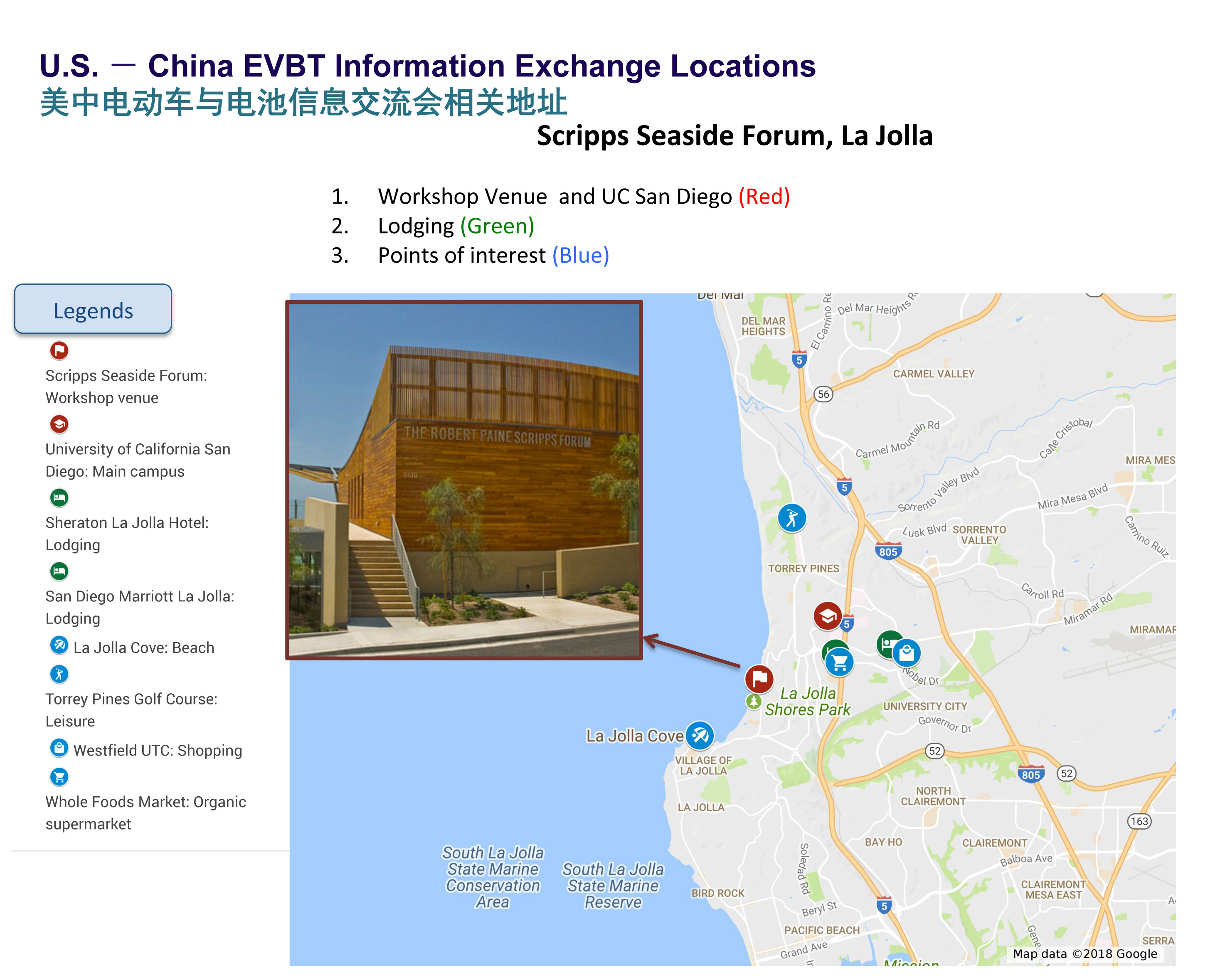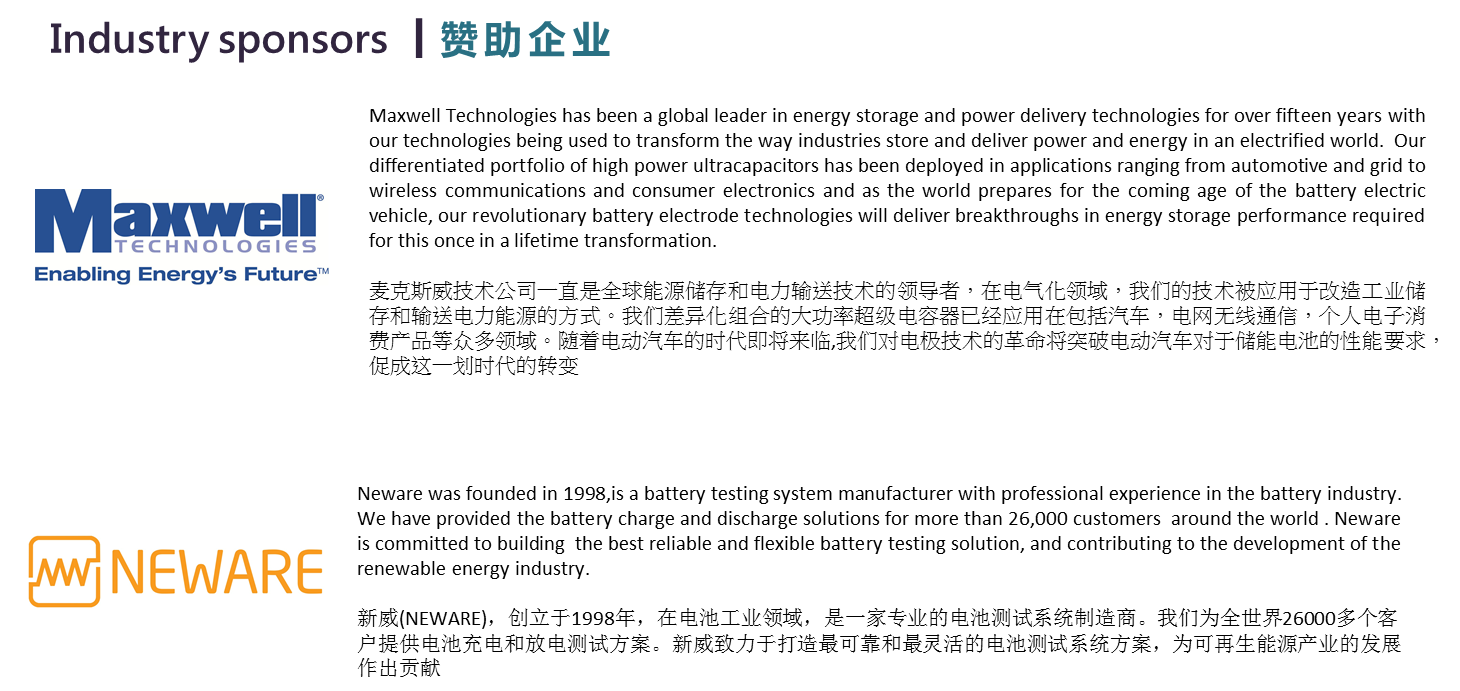 "Ceramics for Energy" Workshop – June 3rd (Fri) and 4th (Sat half-day), 2016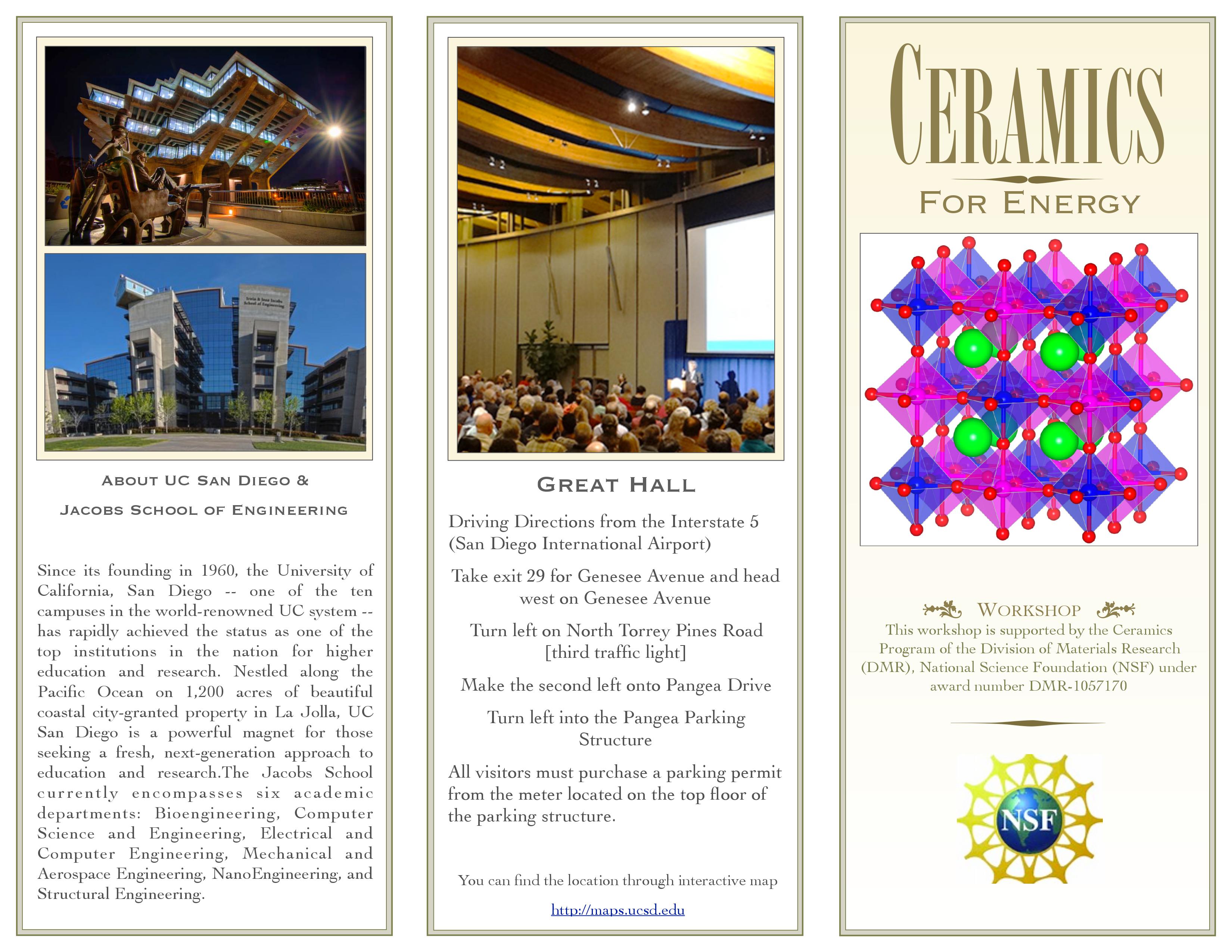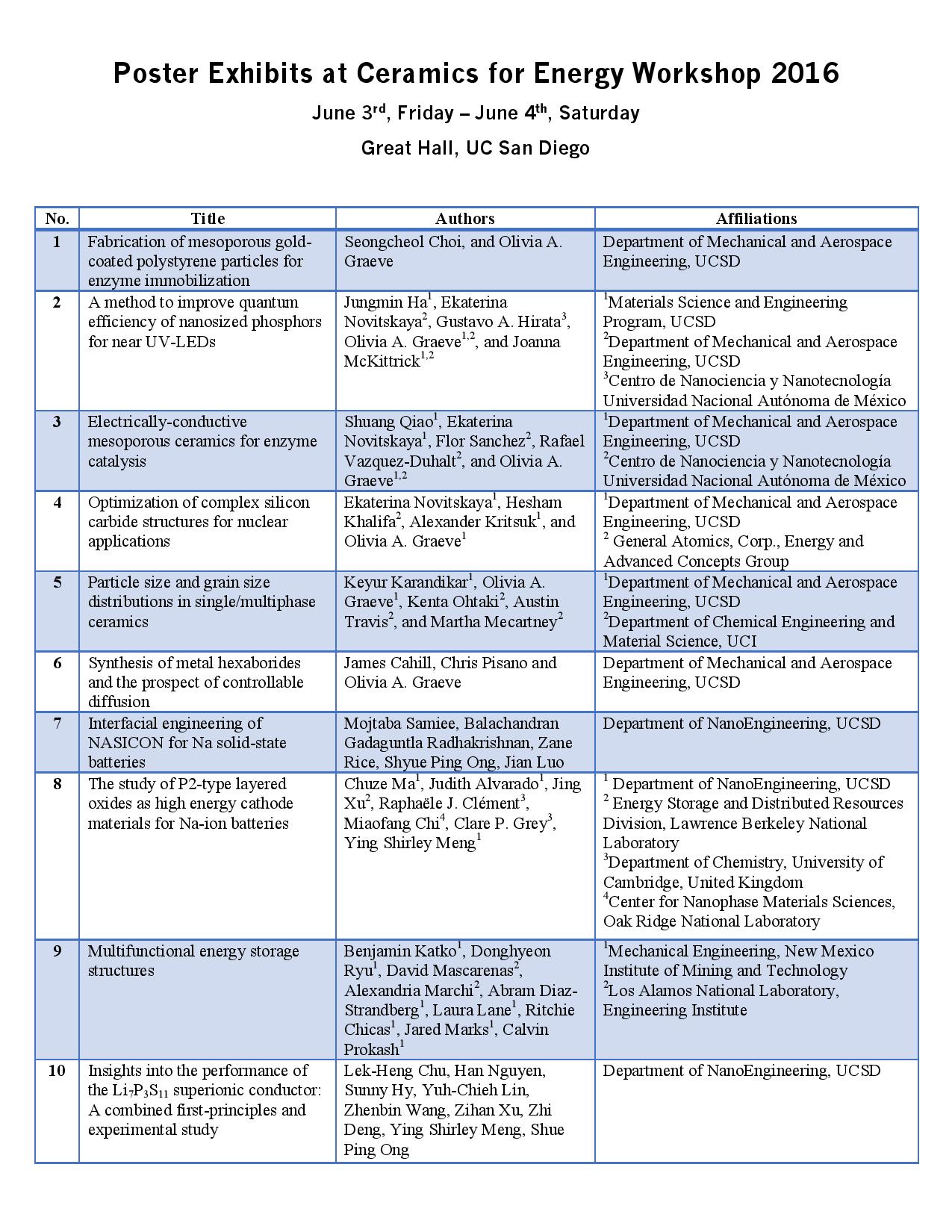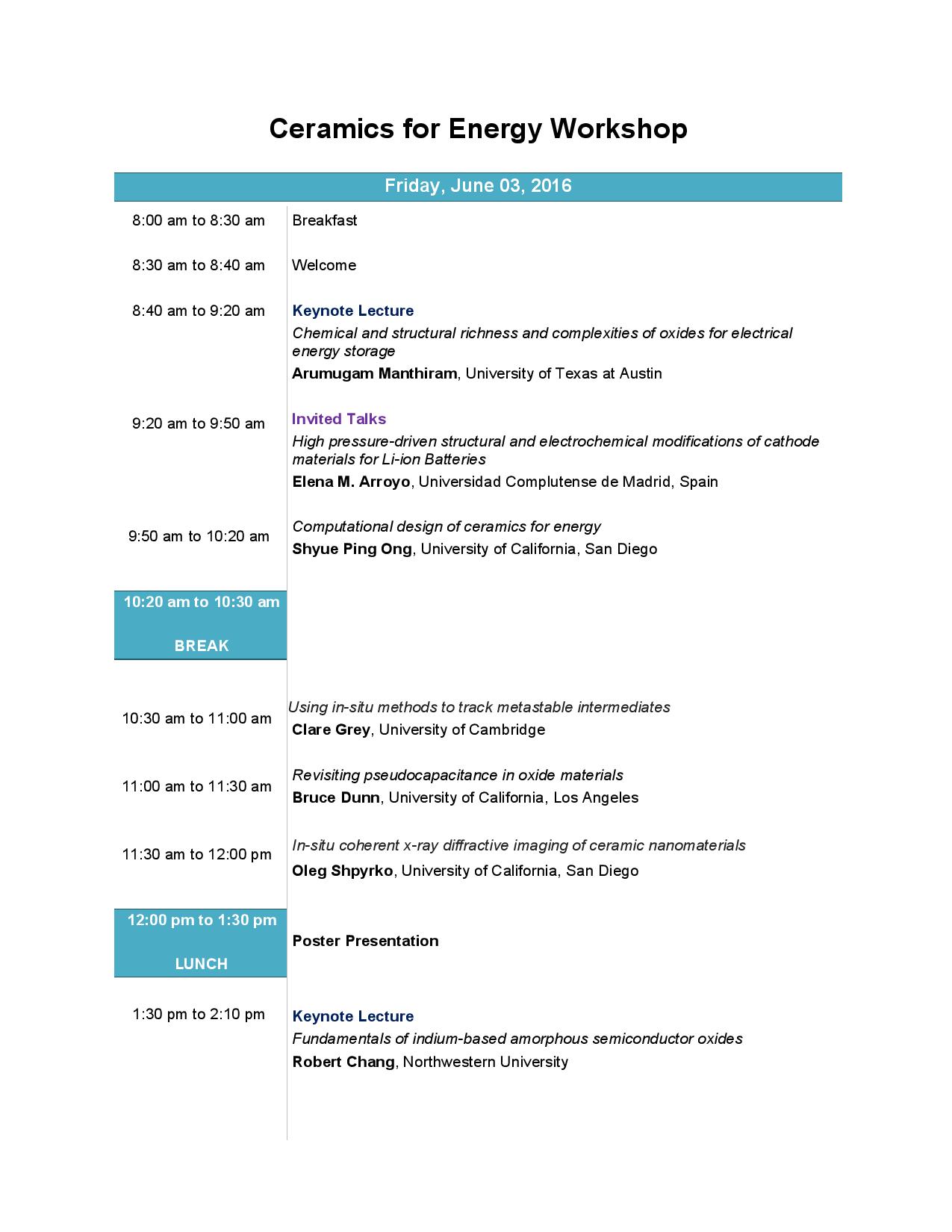 2014 Professional Development Workshop in Ceramics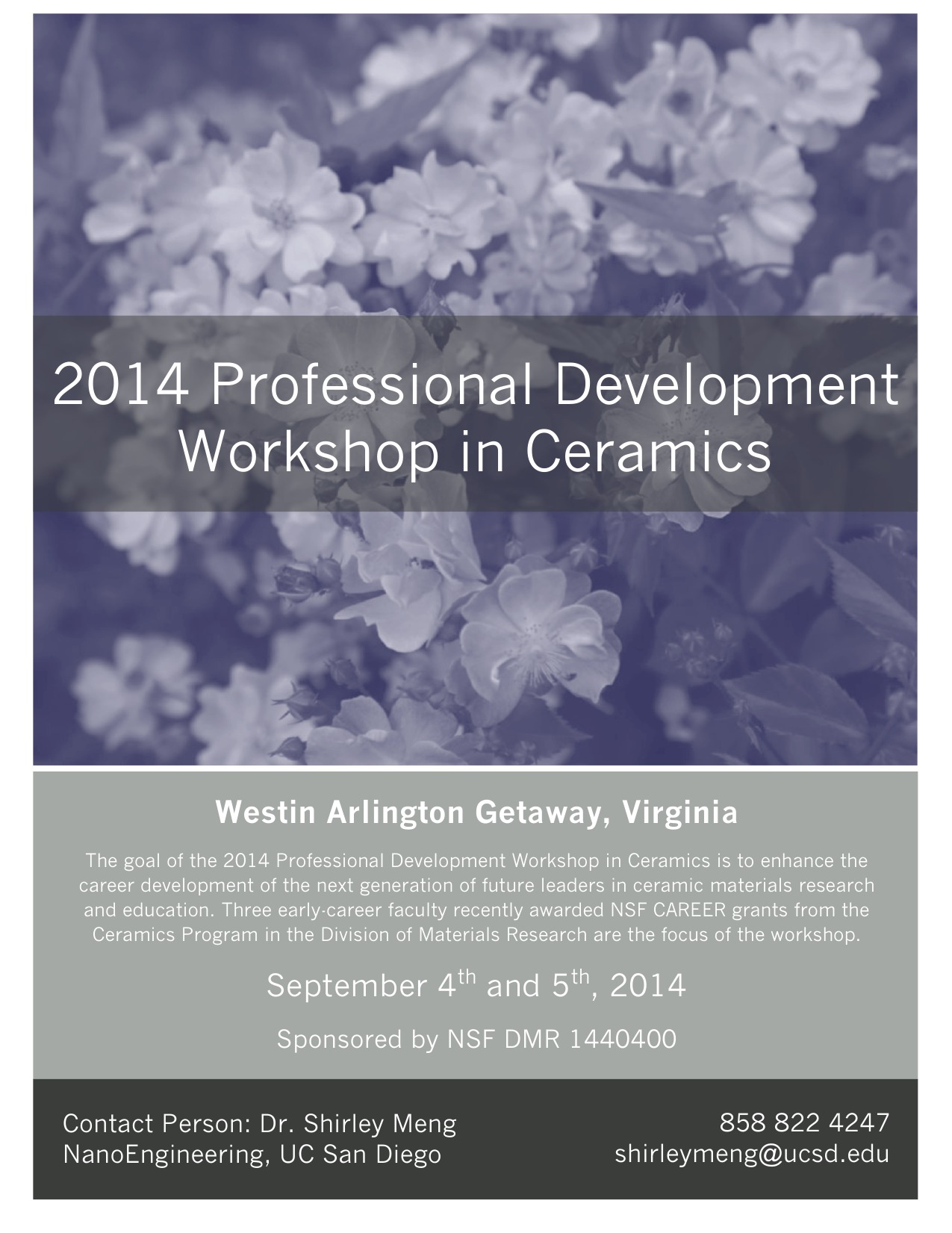 Time

September 4th

Thursday

Activity

Description

8:30 am

Continental Breakfast

Informal discussions and networking

9:00 am

Welcome Remarks

PI Meng

9.10am

Introduction

Ceramics program director Dr. Madsen

9.30am

NSF Sustainability Overview

Dr.Gregory Rorrer

10:00 am

Morning break

10:15 am

Session 1
Panel I

Dr. Dillon: Individual heterojunction nanowires and their performance as photocatalysts

12:15 pm

Lunch

On site lunch for discussions and networking

1:30 pm

ENG IIP

Dr. Shashank Division of Industrial Innovation & Partnerships
(ENG/IIP)

2:00 pm

Session II Panel II

Xueyan Song: Engineering the energy interconversion properties of oxide thermoelectric materials

4:00 pm

Afternoon Break

4:15 pm

Other Faculty

Discussion on the future direction of ceramics research

6:15 pm

End of formal sessions

6:30 pm

Dinner

Onsite dinner for informal discussions and networking

Time

September 5th

Friday

Activity

Description

8:00 am

Continental Breakfast

Informal discussions and networking

9:00 am

DMR Overview

Dr. Mary E Galvin-Donoghue

10:00 am

Session III Panel III

Liping Huang: Examining the role of elasticity in strengthening glasses by in situ light scattering

12.00pm

Lunch

On site lunch for discussions and networking

1:30 pm

Session IV

Materials Genome Initiative

2:30 pm

Adjourn
Three NSF CAREER awardees in Ceramics Program:
Dr. Shen Dillon is an Assistant Professor in Materials Science and Engineering at the University of Illinois, Urbana-Champaign. Shen received his Bachelor's degree and Doctorate of Philosophy in Materials Science and Engineering from Lehigh University in 2002 and 2007. Following his graduation in 2007, Dr. Dillon went to work as a Research Associate at Carnegie Mellon University and Visiting Professor at Lehigh University. At Carnegie Mellon, the focus of his work was three-dimensional characterization of microstructures in order to obtain data critical to understanding microstructural evolution. Shen spent the 2008 academic year as a Visiting Research Scientist at the Massachusetts Institute of Technology working on materials for energy storage, before joining UIUC as a faculty member. As part of his CAREER program, Shen will quantitatively establish relationships between properties of individual heterojunction nanowires and their performance as photocatalysts. His approach includes in-situ transmission electron microscopy (TEM) to quantify the rate of photocatalytic gas evolution at individual nanostructures, ex-situ characterization to extend the structural and chemical information, and electrical measurements to obtain photoconductivity and relaxation data. This work will help to optimize high-efficiency, low-cost heterojunction photocatalysts that might lead toward new approaches to enhancing photocatalytic efficiency and new experimental methods for studying photochemistry at the nanometer scale.
Dr. Xueyan Song is an assistant professor in the Department of Mechanical and Aerospace Engineering of West Virginia University, Morgantown. Dr. Song received her Ph.D. from Zhejiang University China. She did her postdoctoral research in Departemento de Engenharia de Materiais, Instituto Superior Tecnico, Lisboa, Portugal and became a research associate in University of Wisconsin Madison in 2003. Xueyan's CAREER project aims to optimize, through nanoscale engineering approaches, the energy interconversion properties of the p-type oxide thermoelectric materials. Her approach includes doping of the lattice to enhance the electrical transport properties as well as the simultaneous insertion of nanoscale-sized inclusions to reduce the thermal conductivity. This research ultimately will serve to improve thermoelectric materials for waste heat recovery.
Dr. Liping Huang is an assistant professor in the Department Materials Science and Engineering in Rensselaer Polytechnic Institute. Dr. Huang received her Ph.D. from University of Illinois, Urbana-Champaign in 2004, did her postdoctoral work at the University of Michigan and North Carolina State University before joining the faculty at RPI in 2008. She won the Norbert J. Kreidl Award, the highest honor bestowed upon a student by the Glass and Optical Materials Division of the American Ceramic Society, in 2003. Dr. Huang has published many articles and given numerous lectures at conferences and symposia. Dr. Huang's CAREER program has proposed new concepts that use a combination of experimental and computational approaches to examine the role of elasticity in strengthening glasses. Ultimately her work may prove useful in the design of tailored glasses, and benefits may derive from her development of a structural probe for understanding materials under extreme conditions.
In partnership with the Institute of the Americas, LESC holds an annual meeting to help empower a group of students from the USA and countries across Latin America. Here are some pictures highlighting electrochemistry lessons and demonstrations from the last three meetings.

Summer Visit 2018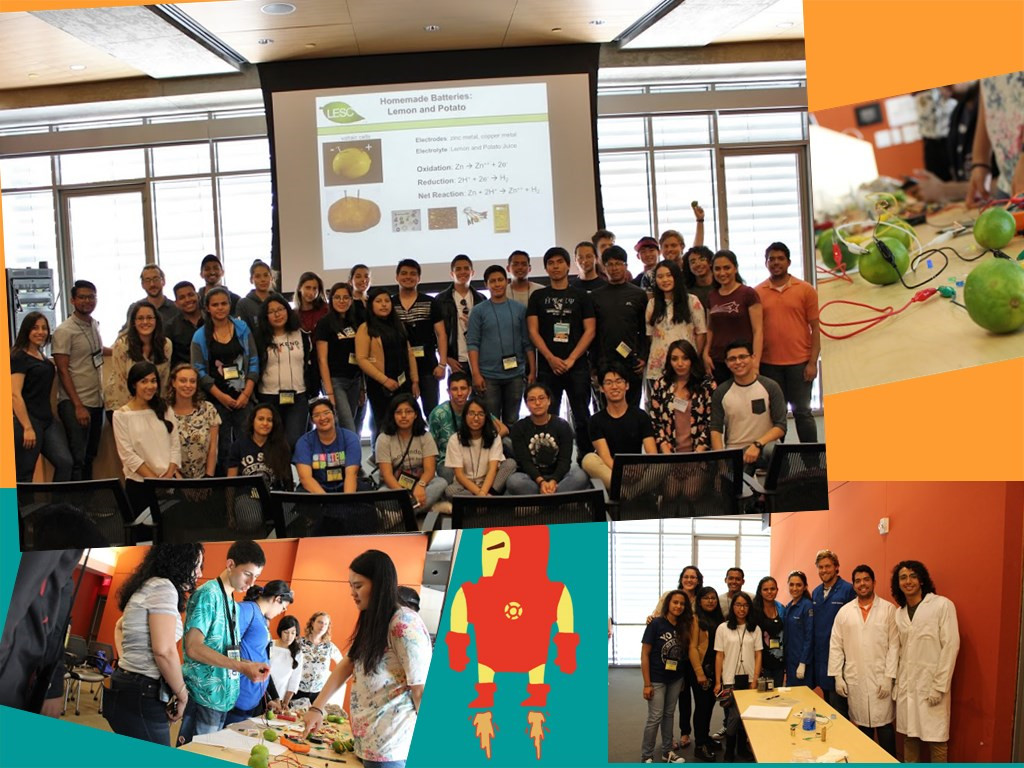 Summer Visit 2017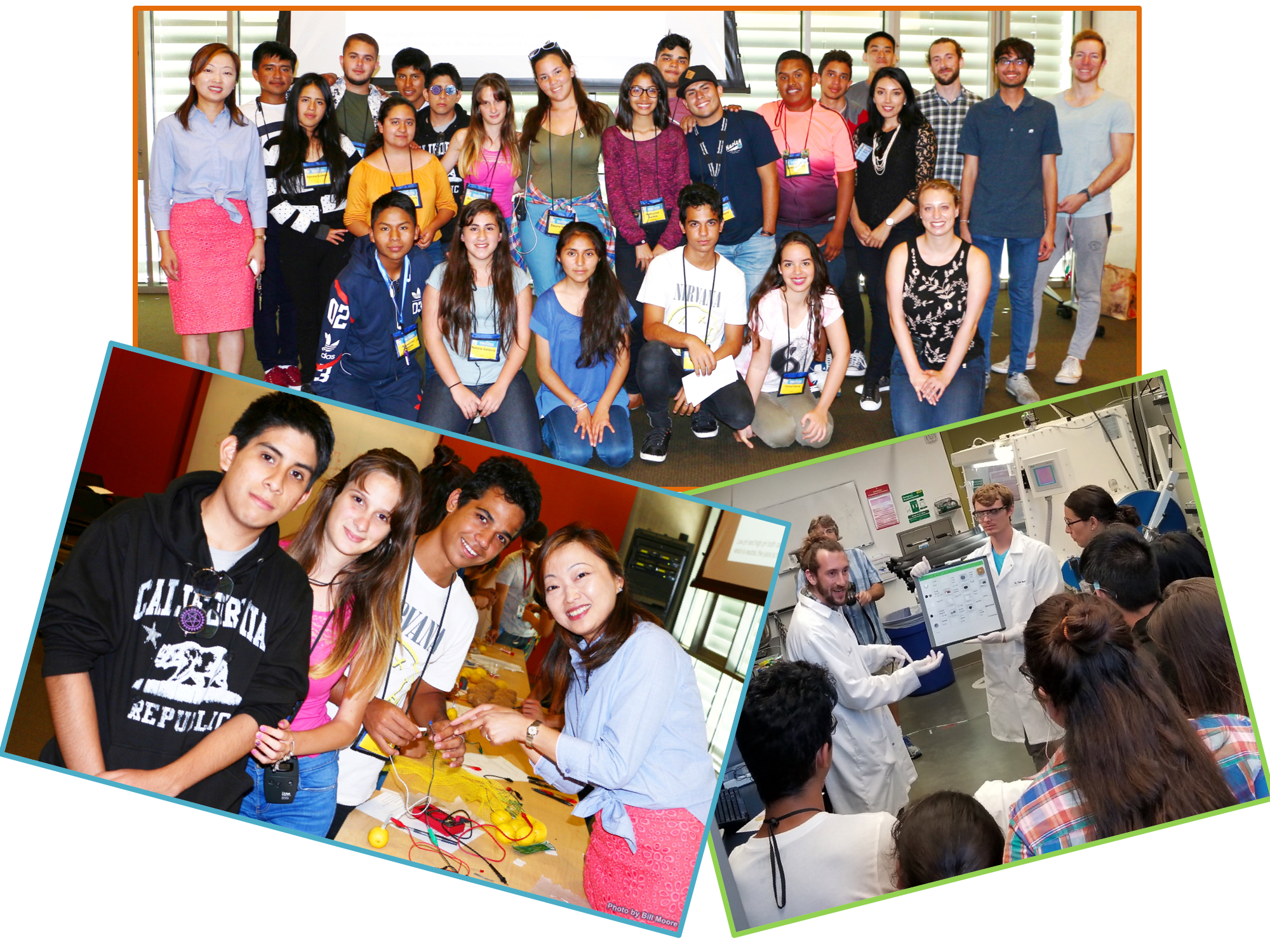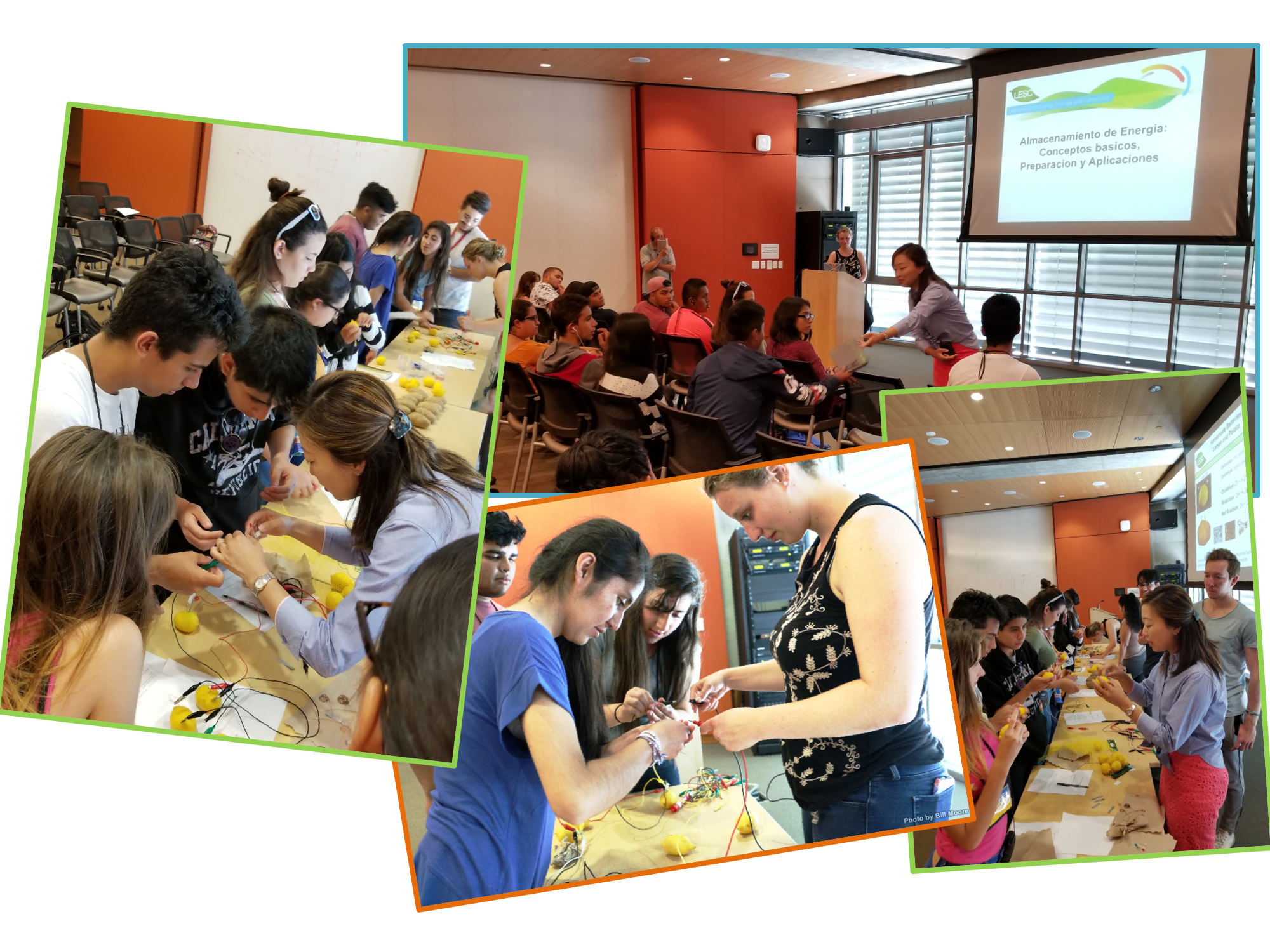 Summer Visit 2016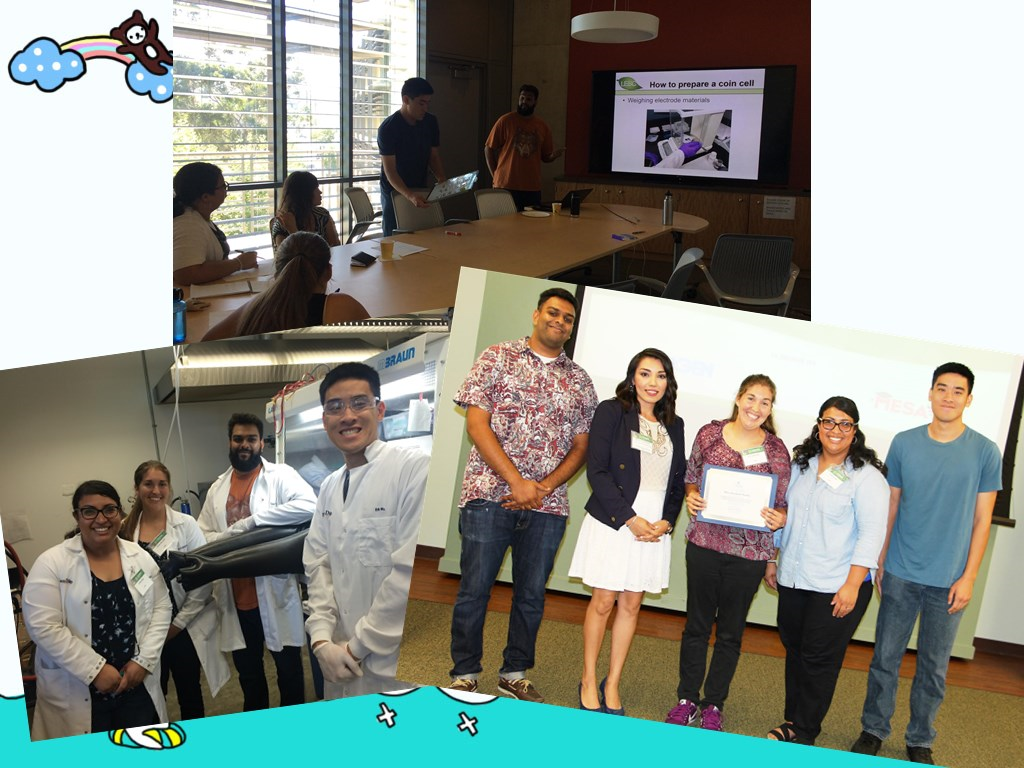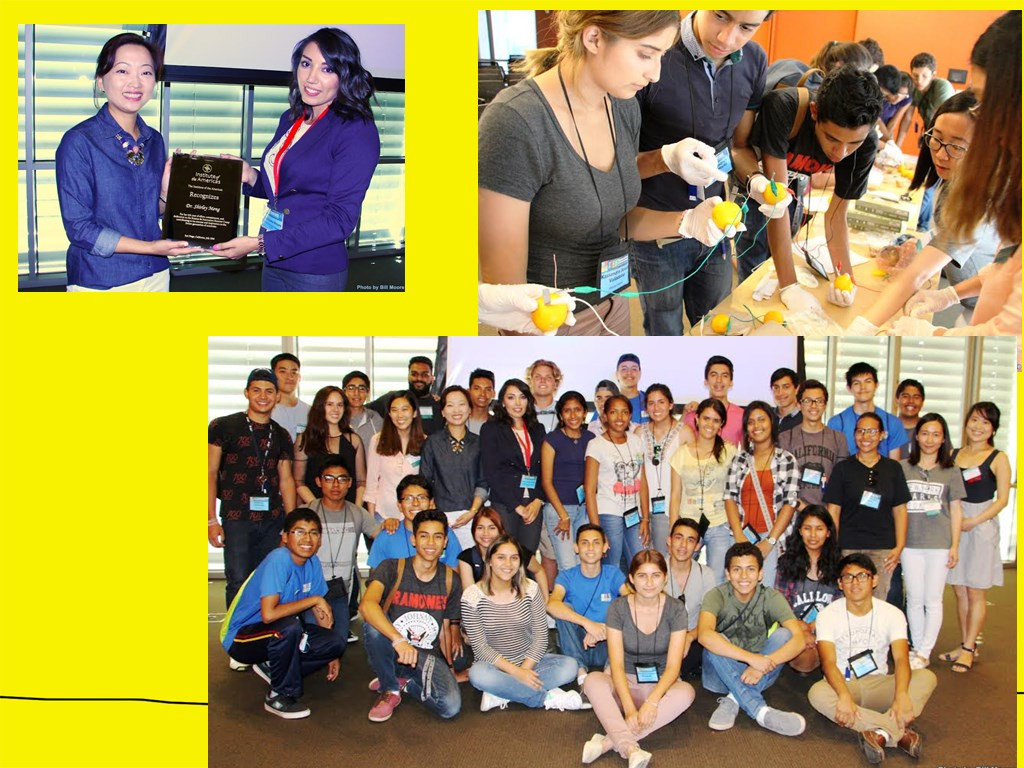 Summer Visit 2015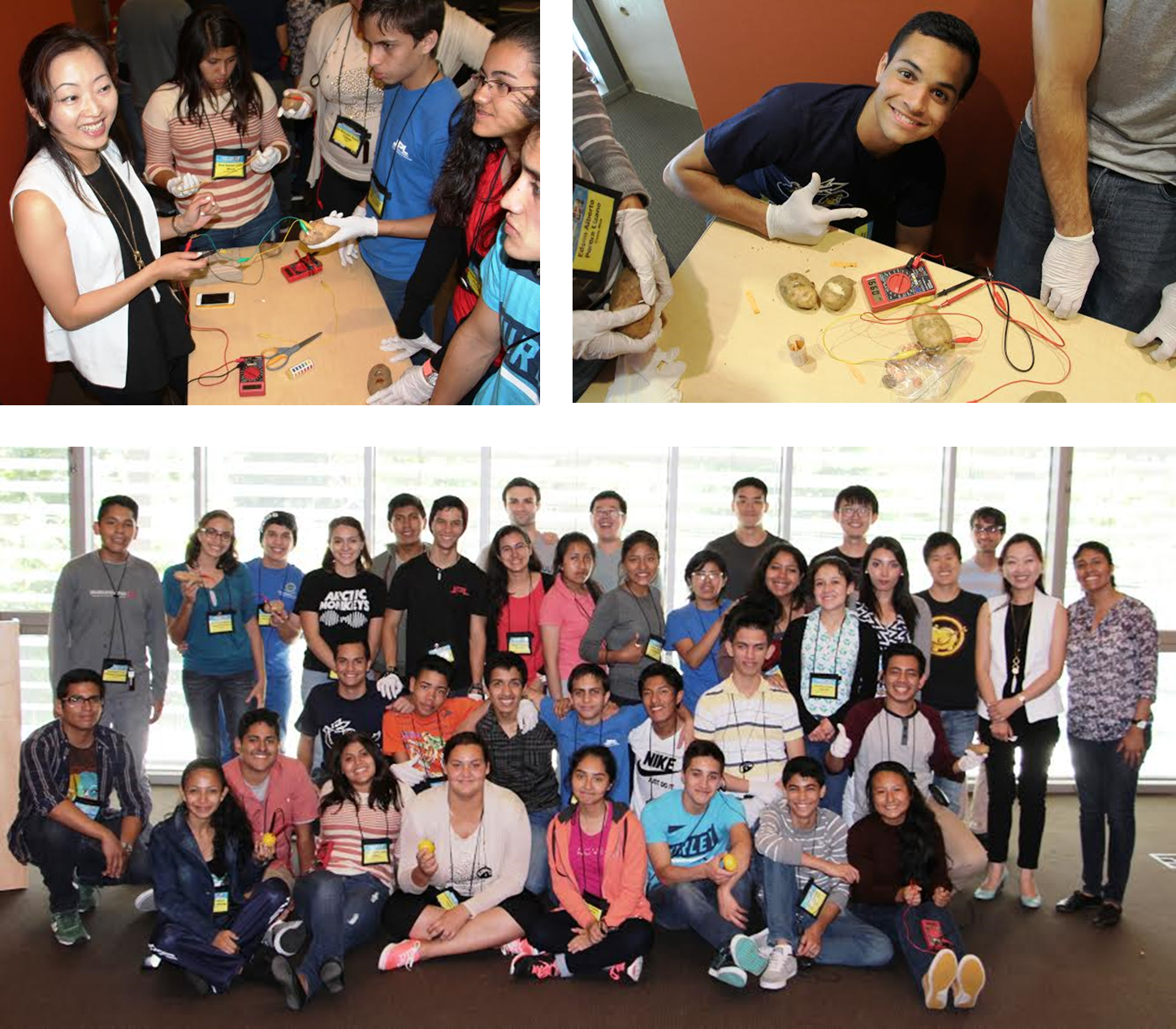 Summer Visit 2014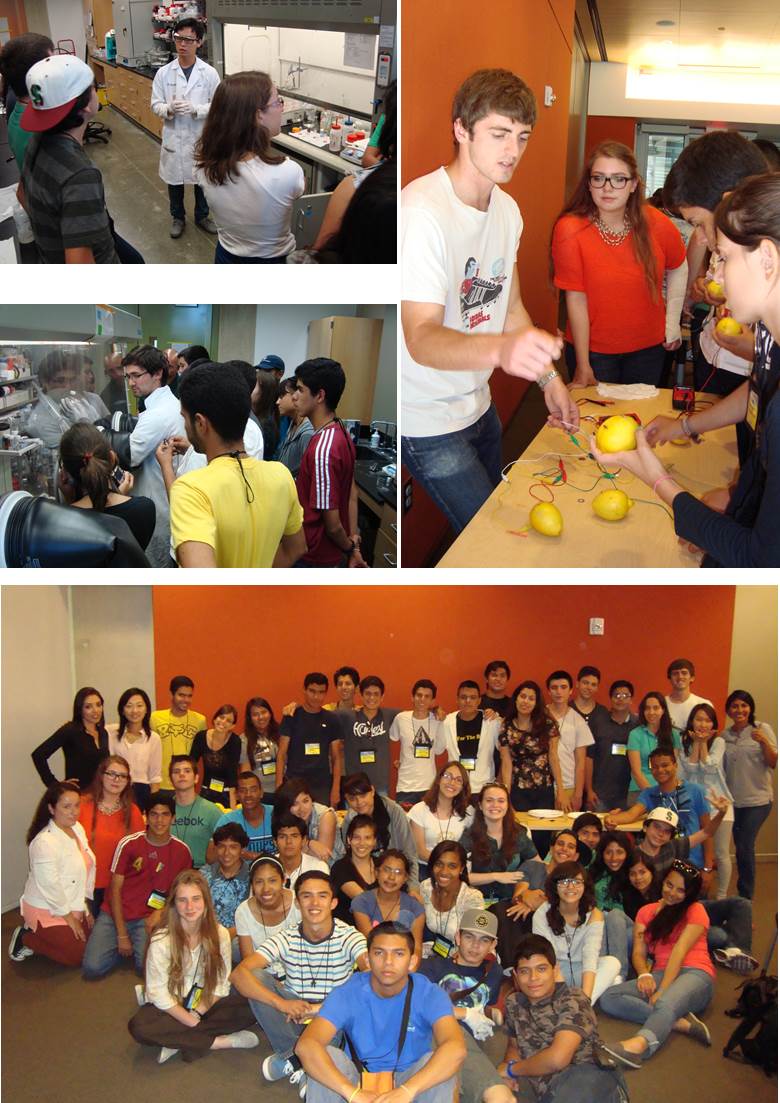 Summer Visit 2013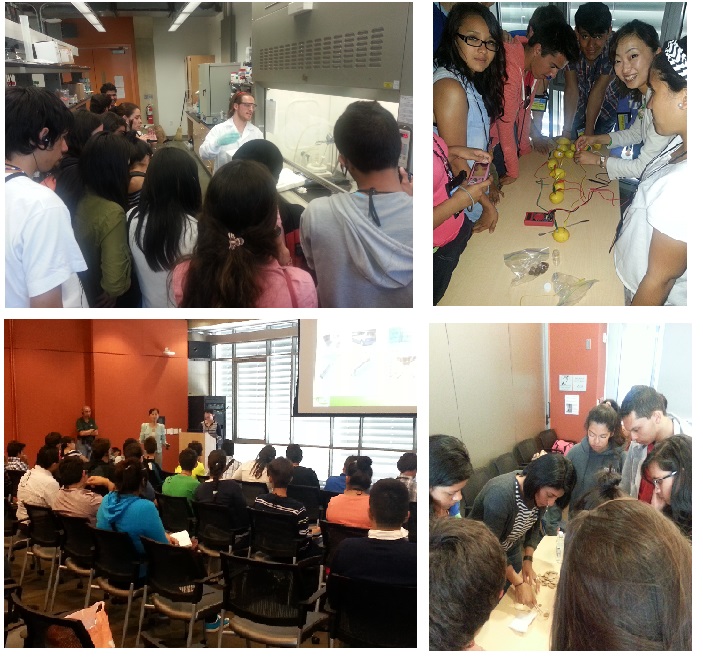 Summer Visit 2012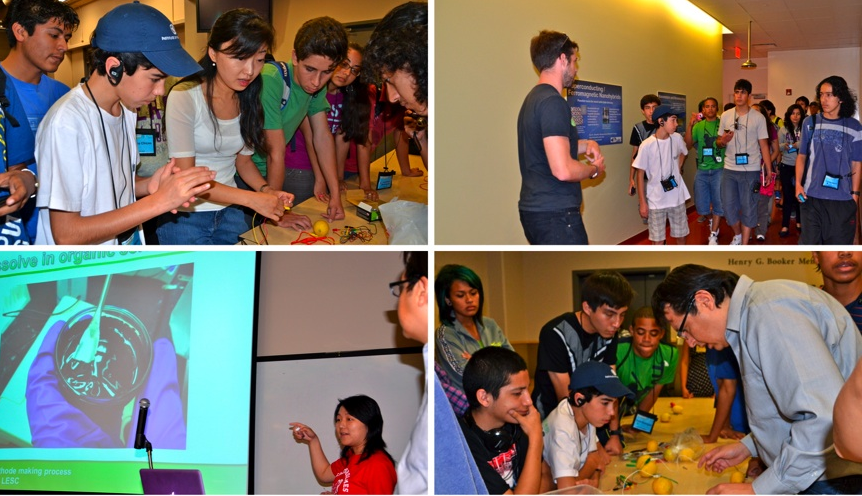 Summer Visit 2011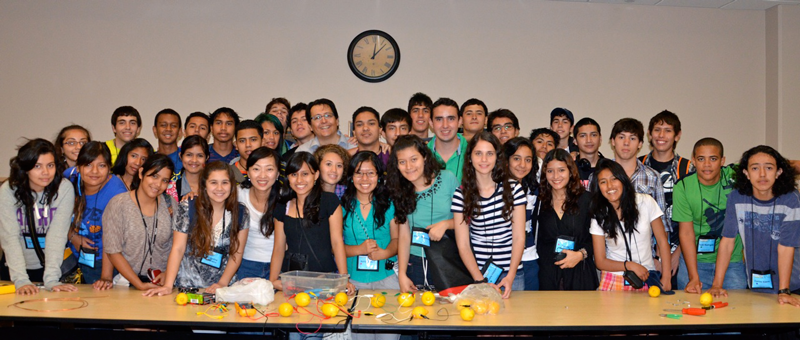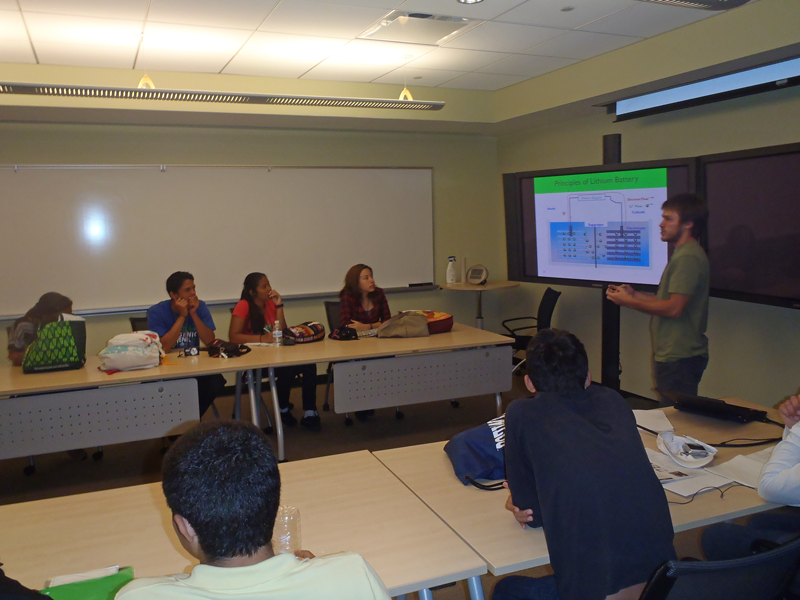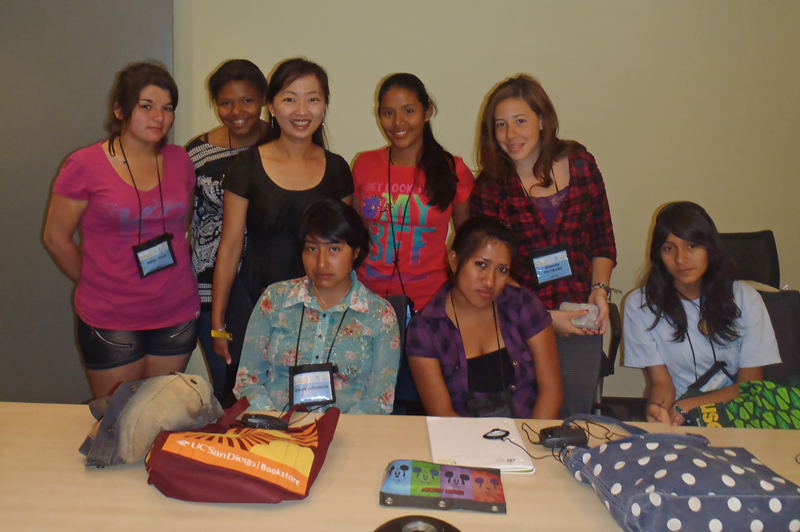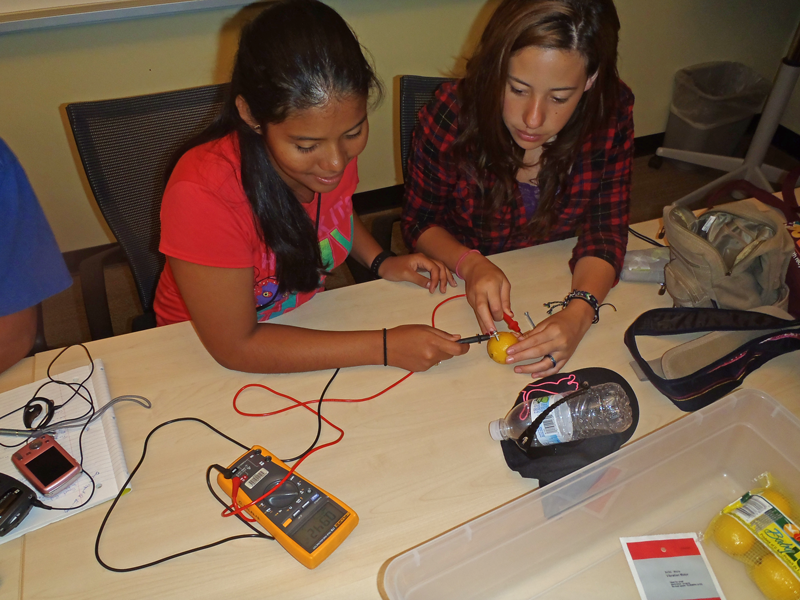 Summer Visit 2010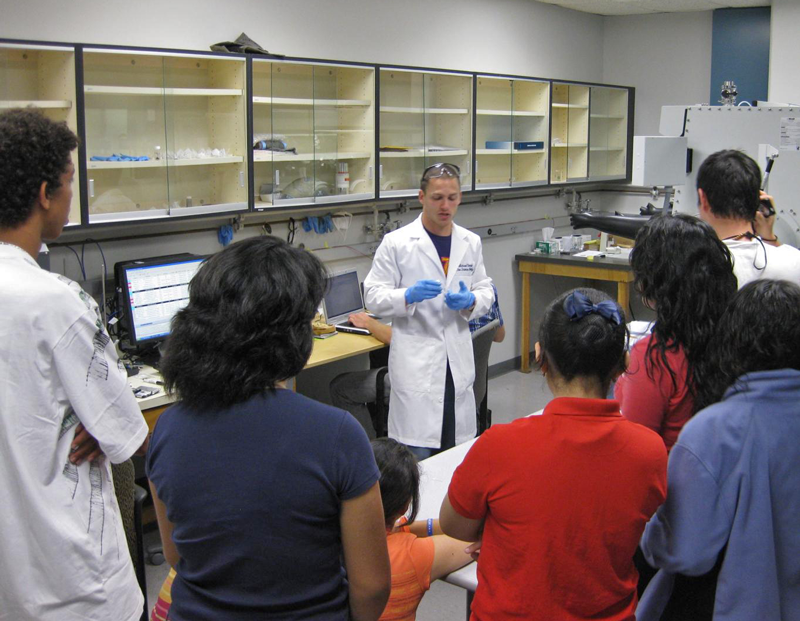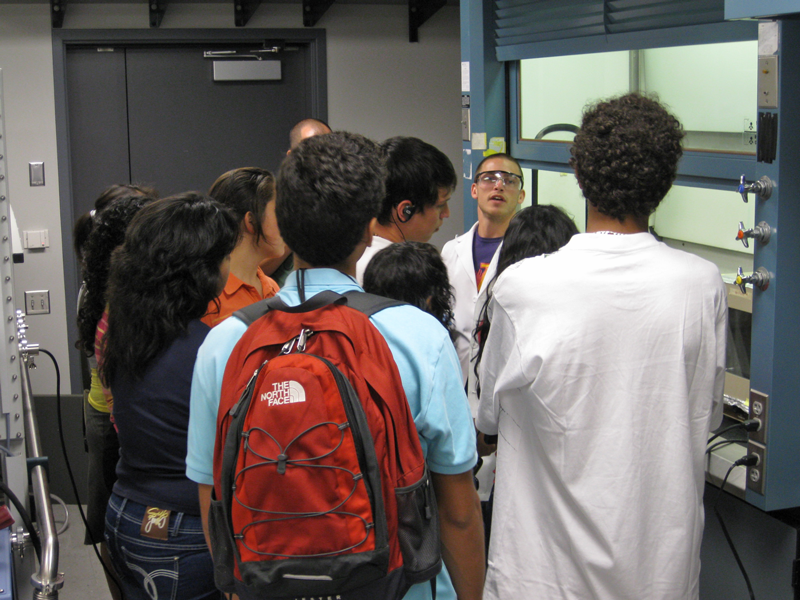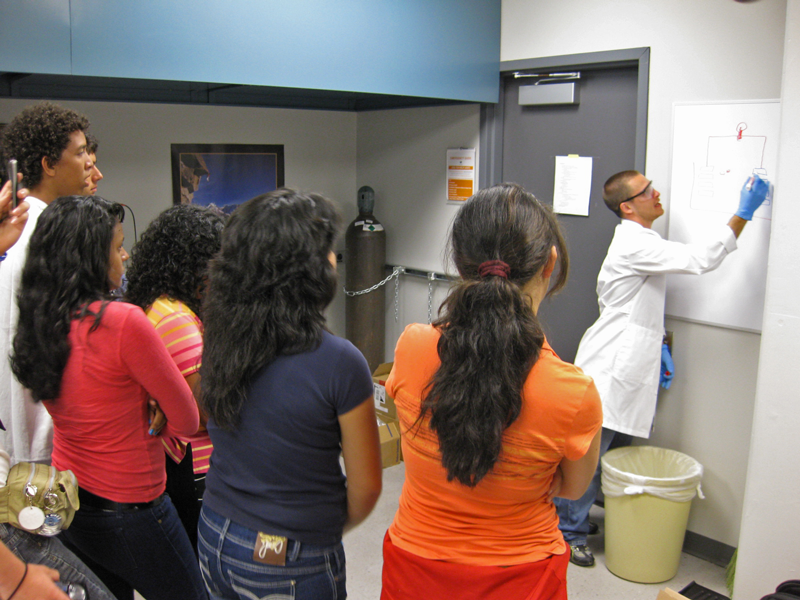 The ENLACE bi-national summer research program at UC San Diego aims to encourage the participation of high school students, college students, and researchers/teachers, in research in the sciences and engineering, while promoting cross-border friendships in the Baja California/San Diego region.
ENLACE 2018
(From left to right, Shirley, Shen, Ricardo(ENLACE student), Axel (ENLACE student), Oeystein, and Will)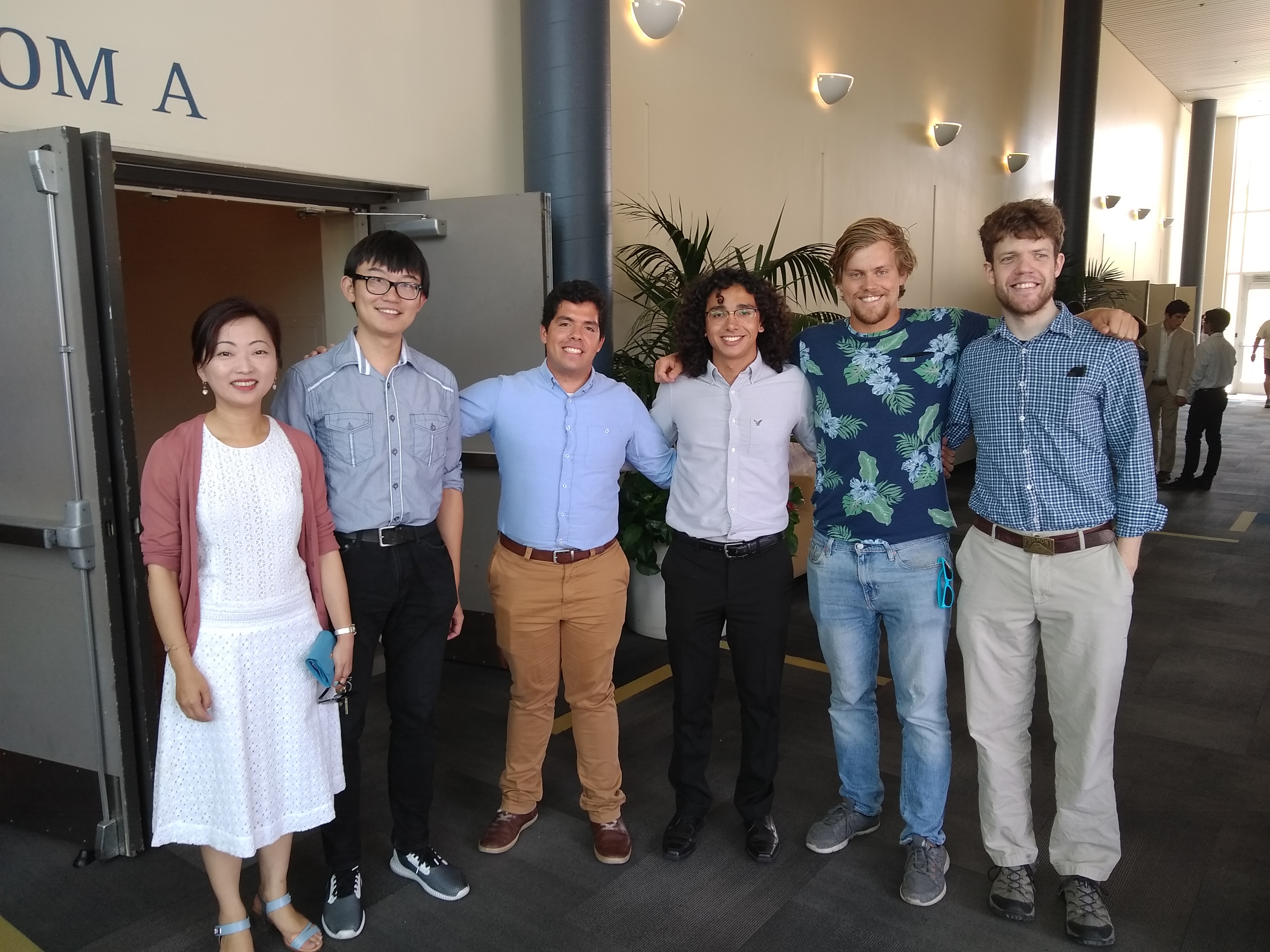 2nd Annual Triton Summer STEM Academy
"Understanding Nature & Protecting the Planet"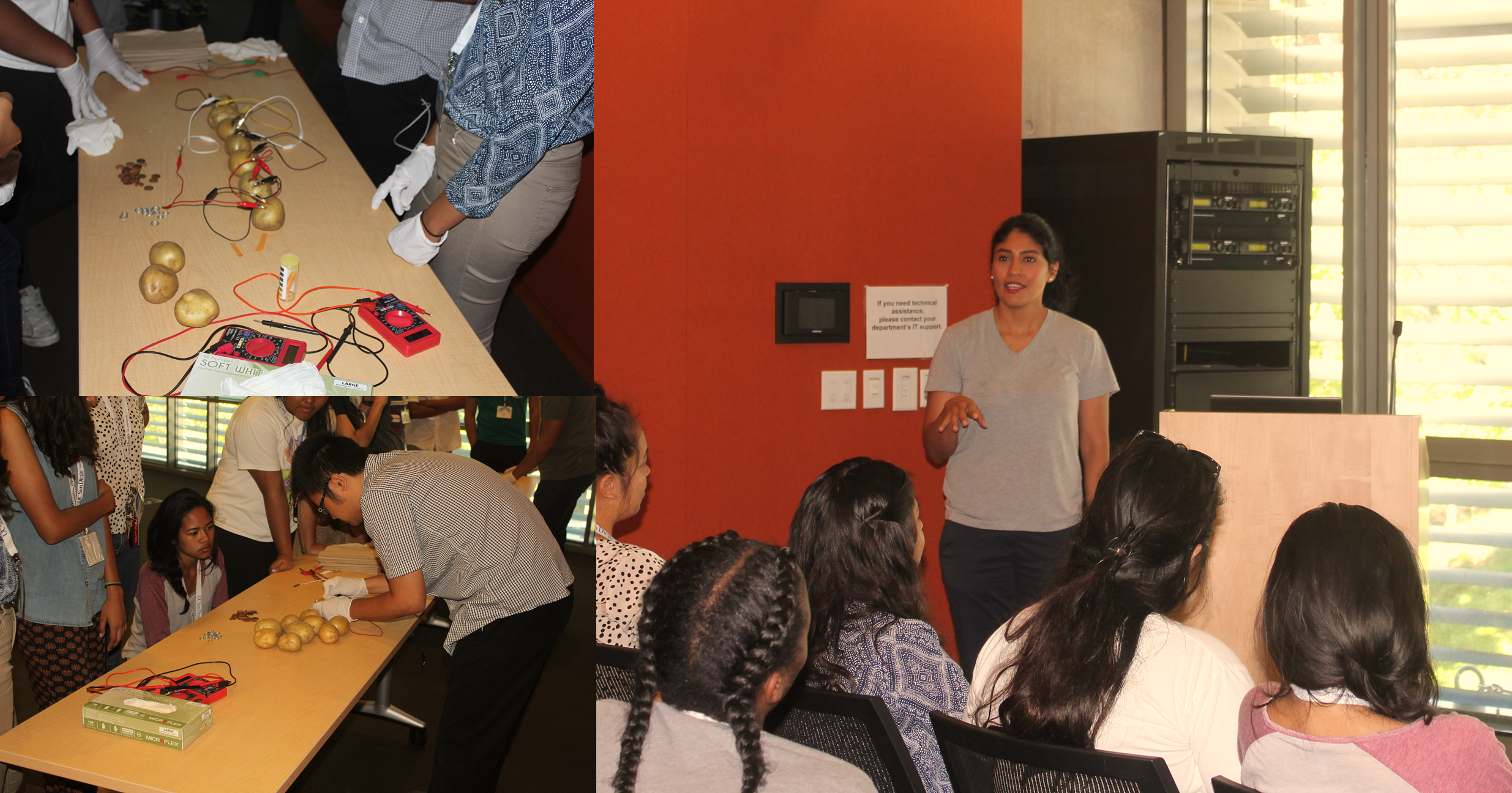 2012 Structural and Material Engineering Open House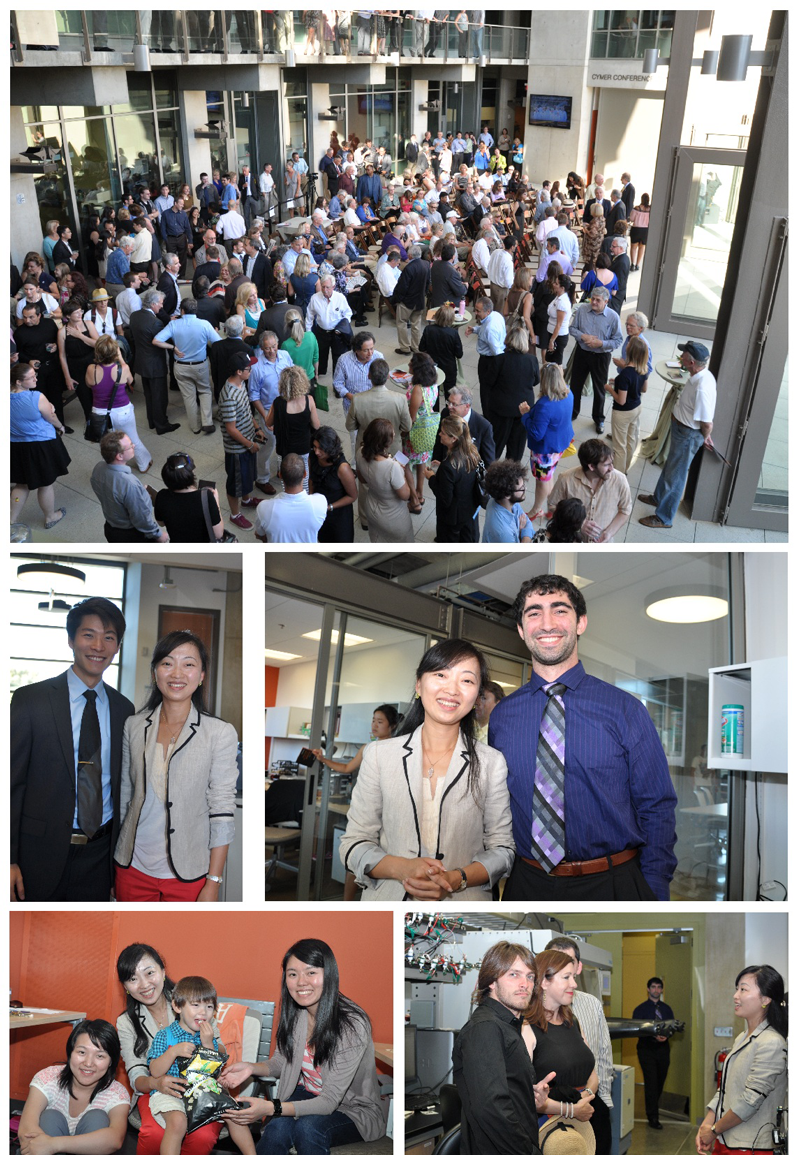 Battery Technologies to Advance Clean Energy Systems
Poster display, regenerating brake demo, coin cell assembly ( including cathode making process display in screen )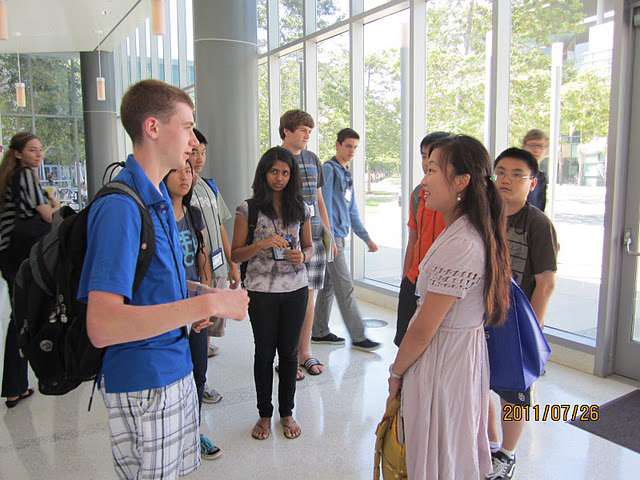 Materials Science & Engineering department seminar at Zhejiang University in China.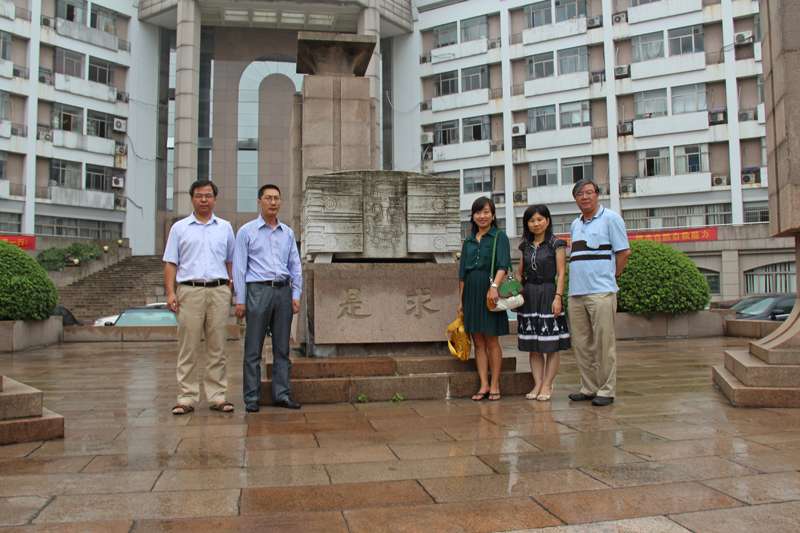 The rigors of an academic schedule can often be very stressful. One of the ways LESC encourages its group members to maintain a healthy lifestyle is through a proper diet. Periodic seminars by health coach, Tami Spence, help keep members on track and provide new ideas for healthful recipes.
Links to Healthy Recipes: